Managed IT Services Huntersville
Leave your technology worries to us and focus on business growth
Focus on what matters most — your business
Huntersville ranks #3 on the Chamber of Commerce's 2019 Best Cities to Live in North Carolina. This goes to show the city's strong economy and employment opportunities. Not only that, but the city has also been receiving numerous accolades for more than a decade. To share in this growth, you must keep up with the technology developments that are driving it.
Partner with SpectrumWise and sign up for our Managed IT Services for Huntersville businesses to take advantage of this robust economy. Our team of certified IT technicians will proactively monitor and optimize your IT infrastructure, so you can focus on innovation and business growth.
We understand how valuable your time is as a business owner
Our Managed IT Services in Huntersville take IT issues off your plate so you can have more time to put towards business growth
Contact us today to discuss how we can make your business technology better.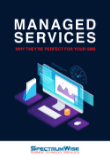 Ready to enjoy all the benefits of the finest Managed IT Services in Huntersville?
Get our free eBook and find out why they're perfect for your organization.
Partners & Certifications
When you partner with SpectrumWise, you gain the confidence of working with a company that's backed by world-renowned leaders in technology and products. We hold numerous partnerships and certifications with the following companies: