Unleash Your True Business Potential With Our Spartanburg Managed IT Services
Managed IT services have become more significant as businesses shift closer to full-scale adoption of technology in their everyday operations. At SpectrumWise, we commit our time and resources to keep your business tech in tip-top shape. We achieve this by thoroughly assessing intricate business technologies, and identifying and resolving complex IT challenges before they explode into company-wide issues.
SpectrumWise Overview | Who We Are
SpectrumWise is a leading Spartanburg managed IT services provider empowering small and medium-sized businesses in Spartanburg with top-quality IT solutions. For over two decades, we've worked closely with our clients, providing custom-made solutions that meet their unique business needs.
Accounting & Finance

Architecture & Construction
Engineering & Manufacturing
Healthcare
Real Estate
Legal
Our Managed IT Services in Spartanburg SC
From network management, and cybersecurity to cloud hosting and data backup, we bring a wide selection of services designed to keep your business ahead of the curve.
Our key areas of expertise include:
Managed IT Services
IT Consulting
Microsoft 365 Business Solutions
Cloud Hosting
IT Support
Cybersecurity, Vulnerability, & Penetration Testing
Network Security Audit
Phone Systems
Security Awareness Training
Fill Out The Form Below To Get Your Free Consultation
Your partner in technology and success.
We're committed to the following values.
Partners & Certifications
When you partner with SpectrumWise, you gain the confidence of working with a company that's backed by world-renowned leaders in technology and products. We hold numerous partnerships and certifications with the following companies:
We take a preventative approach that protects your business from unforeseen inconveniences. We achieve this by proactively monitoring your systems and resolving underlying IT issues with our multi-step process.

Our expert IT technicians are fast and thorough. As a managed IT service provider, it is in our best interests to guarantee your satisfaction with a thorough service that frees your business from downtime, cybersecurity breaches, and other complex IT challenges.
SpectrumWise comprehensive IT support covers email spam protection, cybersecurity solutions, data backup and recovery, and network monitoring so you don't have to spend more time and internal resources than you need to.
Our proactive monitoring and maintenance of your IT infrastructure keep your business technology running at peak performance.
Your business IT security is fortified by our unbeatable 7-layer security strategy. Our advanced security strategy adds multiple levels of protection for your business through physical security, securing networks, data protection, and backups.
We assign a team of IT experts with over 20 years of combined experience in providing technology solutions. That way, you can be confident in the quality of our service.
Better efficiency at your workplace. With SpectrumWise, you can relieve your internal teams from complex IT duties. Doing this frees up more time and internal resources to focus on core business objectives.
Choosing the Perfect Managed IT Services Partner: Key Factors to Consider
With an ever-rising number of managed IT service providers in Spartanburg SC, it pays to do your own research to find a reliable partner that suits your needs. At SpectrumWise, we believe that your business technology should be an asset, and not just another expense.
Here are some key factors to consider when finding the right managed IT service provider in Spartanburg SC:
Qualifications and Expertise
Does your MSP possess the right skills for the job? Can they demonstrate their expertise in real-life situations? Do they have unquestionable experience working with similar companies? These are just a few questions you can ask before choosing your managed IT service partner.
At SpectrumWise, we pride ourselves in collaborating with leading brands, including Microsoft, Dell, and SonicWALL. We're a certified Microsoft Small Business Specialist, dedicated to serving small business needs in business technology.
Effective Communication and Responsiveness
We understand how important communication is in any business relationship, especially one that involves critical aspects of your business operations. As a responsive managed IT service provider, we promptly respond to your call to alleviate the challenges brought by unwarranted downtimes, and data loss and get your business on track fast. Our goal is to instill a sense of confidence in our service. You can rest assured that whenever you need us, we've got you covered.
No Hidden Costs
SpectrumWise charges a flat monthly fee to protect small businesses from surprise costs. Our solutions are curated to fit within your budget without sacrificing the quality of our service. Whether you need continuous help desk support, cybersecurity solutions, or cloud hosting, you can keep your IT budget under control with our flat monthly rate.
Flexible Contracts
With SpectrumWise, you no longer need to sign up for long-term contracts. Instead, you can choose only the services you need, when you need them and adjust your service plan as your business needs evolve. We enable our clients to scale with their needs and budget wisely with our flexible contracts.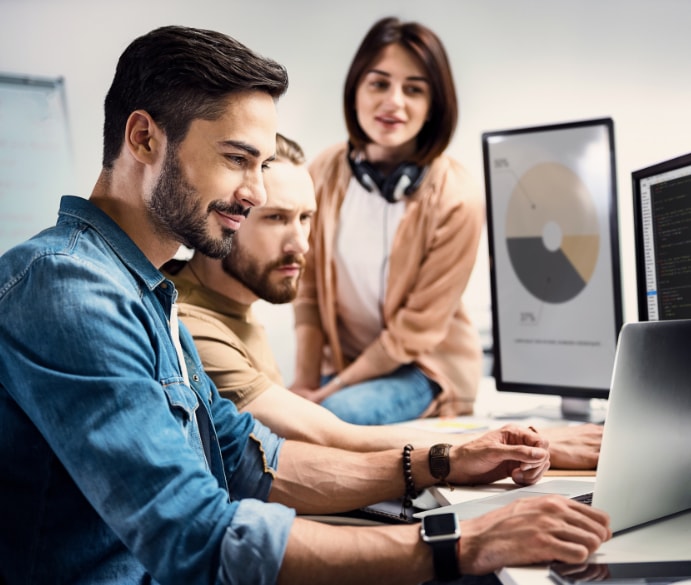 Our clients represent the best their industries have to offer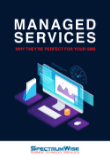 Managed IT services give you more productivity, for less money
…If you're ready
Our multi-step process typically starts with a comprehensive assessment of your business IT infrastructure. Next, we'll create a customized solution to be implemented by our industry experts. Ongoing maintenance and support are also provided to keep your business technology up-to-date, secure, and optimized.
1. Initial Assessment of Your Business IT Infrastructure
Our process begins with clearly understanding your current business IT. This involves a detailed assessment of your hardware, software, and network components. By carefully inspecting your business infrastructure, we are able to understand your unique technology needs. Additionally, we're able to identify any areas that require improvement.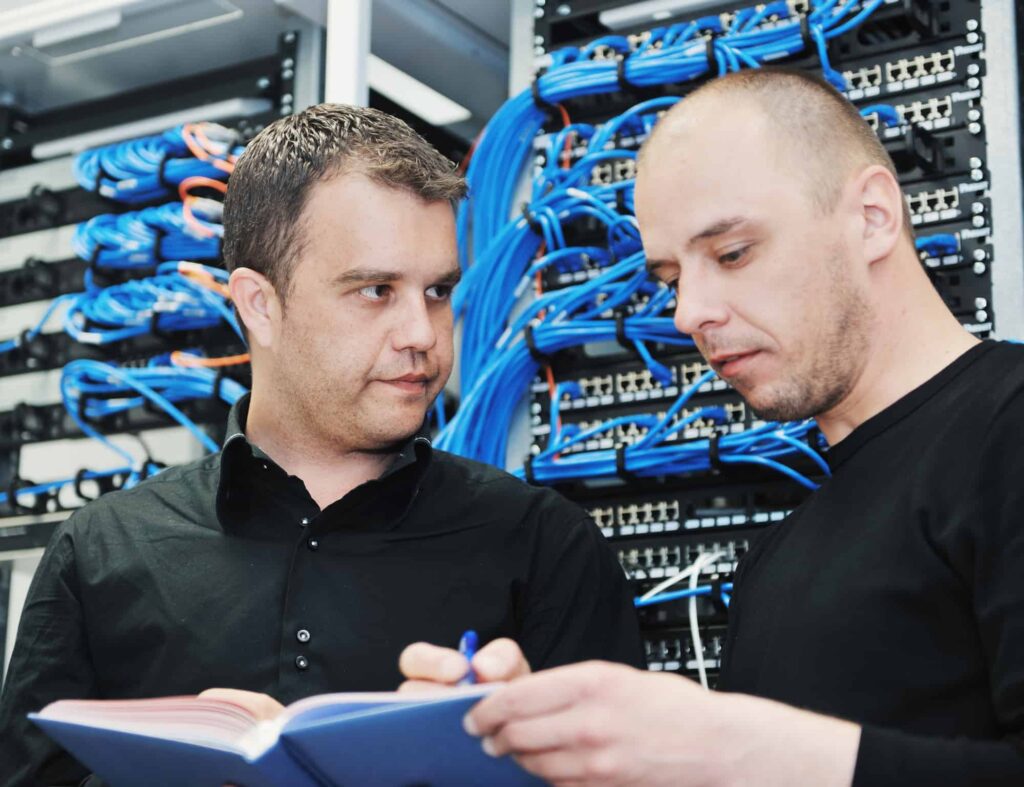 2. Establishment and Implementation of a Plan of Action by a Seasoned IT Expert
Once we have an unobscured picture of your business IT infrastructure, we task your dedicated IT guy with developing and implementing comprehensive solutions that align with your business goals. At this stage, we work closely with you to implement the action plan. This includes the installation of new hardware and software and the configuration of network components.
3. Implementation of New Cybersecurity Measures
A closely-knit cybersecurity strategy is of utmost importance to protect your vital business data from unauthorized access. SpectrumWise IT experts assess your current security measures, including passwords, firewalls, and network to identify potential vulnerabilities that need to be sealed off. With the assessment at hand, we can proceed to develop and implement customized security solutions that strengthen the organization's overall security posture.
4. Ongoing Spartanburg IT Support
At SpectrumWise, we offer ongoing maintenance and support to ensure that your technology infrastructure remains up-to-date and secure. Our Spartanburg IT support services cover regular software updates, hardware maintenance, network monitoring, and helpdesk support for underlying IT-related issues.
What's more, we schedule periodic manager meetings for further assessments and improvement of your business IT.
Ready to convert your business technology into a powerful venture and get a better return on your investment? With our tailored solutions, exceptional support, and commitment to your success, we're confident that SpectrumWise is the right MSP partner to help take your business to the next level.