Reliable Cybersecurity for Charlotte, North and South Carolina
Bolster your business Cybersecurity posture with a premier cybersecurity provider for the Carolinas.
Safeguard Your Business with Cutting-Edge Cybersecurity Solutions
Unauthorized access to sensitive business data attracts heavy fines, costly legal battles, and thousands of dollars in retribution for the affected parties. As new technologies pop up every day, cybercriminals are stepping up their tactics to launch more sophisticated attacks against businesses. Unsuspecting small businesses are frequent victims of the devastating aftermath.
But fear not! SpectrumWise is here to defend your business against malicious threat actors with cutting-edge solutions. With strict cybersecurity policies, proactive network monitoring, and state-of-the-art firewalls, our clients rest easy knowing that their vital business information, intellectual property, and sensitive customer data are in good hands!
Unleash the True Potential of Your Business Technology with Confidence
In light of the recent wave of brutal cyberattacks against unsuspecting businesses, it's clear why small businesses only trust reliable Cybersecurity Charlotte NC partners for their cybersecurity needs. At SpectrumWise, it is our mission to identify and neutralize potential threats that could wreak havoc on your systems.
Our action plan is informed by our proactive system and network monitoring software, which runs 24/7 on your digital infrastructure. Should we detect anomalies in your devices and networks, our dedicated cybersecurity experts act fast to understand the threat and mitigate potential risks. That way, our clients can go on with normal business operations with confidence as we fortify their digital infrastructure.
Fill Out The Form Below To Get Your Free Consultation
Secure, online access to files for remote collaboration
Virtualized environment to free up resources
Content-filtering programs to keep emails confidential
Feature-rich apps so you can work on the go
Your partner in technology and success.
We're committed to the following values.
Partners & Certifications
When you partner with SpectrumWise, you gain the confidence of working with a company that's backed by world-renowned leaders in technology and products. We hold numerous partnerships and certifications with the following companies:
Stay One Step Ahead of Cybercriminals with State-of-the-Art Cybersecurity Solutions
Reliance on on outdated security measures in today's rapidly evolving digital landscape is a recipe for future disaster. As a premier cybersecurity provider in Charlotte NC, we advocate for the use of robust technologies with advanced capabilities for combat against the more sophisticated modern-day cyber threats.
From solid firewalls and real-time intrusion detection systems to advanced encryption protocols, we equip your network with the latest capabilities it needs to keep malicious threat actors where they belong – outside your business. Our proactive approach ensures that potential vulnerabilities are detected and addressed before they can be exploited by cybercriminals.
With SpectrumWise Cybersecurity experts, you get:
Tailored Network Security Solutions For Your Unique Business Needs
We understand that every business is a unique entity, and a one-size-fits-all approach doesn't cut it when it comes to selecting the right equipment for your business. Our experts take the time to assess your current IT setup, understand your industry's IT standard requirements, and identify potential vulnerabilities. Based on this analysis, we develop a customized security strategy that aligns with your business goals and risk tolerance.

SpectrumWise offers tailored network security solutions that match your unique business needs. From small startups to medium-sized enterprises, we provide scalable solutions that fit your budget without compromising on security. With this tailored approach, our clients enjoy the peace of mind that comes with knowing that their cybersecurity measures are optimized for their specific needs.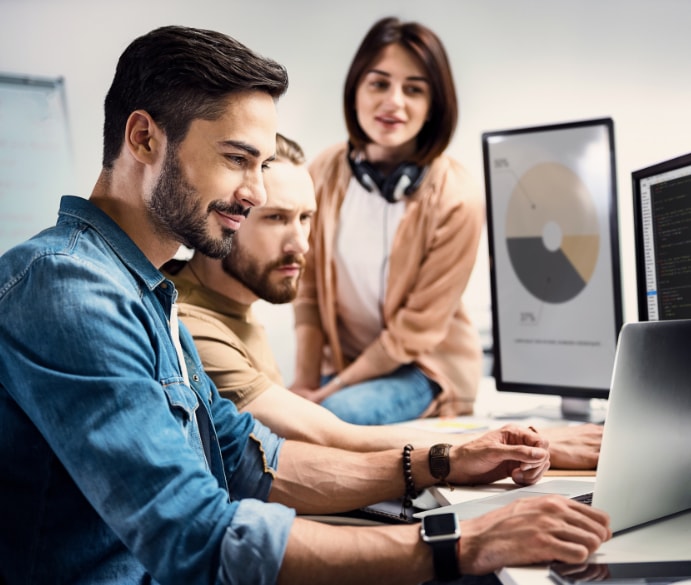 Our clients represent the best their industries have to offer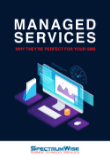 Managed IT services give you more productivity, for less money
…If you're ready
Experience Unparalleled Peace of Mind with our Reliable IT Support
Dealing with a cyber incident is never a pleasant experience with the disruption and uncertainty it brings to your business. That's why our cybersecurity company in Charlotte NC not only offers exceptional cybersecurity services but also provides reliable support you can count on to help you get your business back on track in the event of an attack.
Our dedicated support team is available 24/7 to address any security concerns quickly and decisively. Whether you need assistance with incident response, system recovery, or simply need to monitor your network on an ongoing basis, we've got you covered!
A Cybersecurity Partner Committed to Your Long-Term Success
At SpectrumWise, we believe in building long-term partnerships with our clients by providing a professional service that exceeds expectations.
Take a proactive stance against cyber threats today! Contact us to learn more about our cybersecurity and network security services in Charlotte NC. Together, we'll fortify your business against digital dangers and help you navigate the digital landscape with confidence!